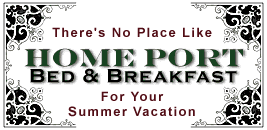 2500 Peconic Lane • PO Box 333
Peconic, New York • 11958
631-765-1435
Email: homeport1@hotmail.com




Return to Homeport B&B Home Page
---
Dreaming of a Summer Vacation?
If you're looking for a relaxing seaside vacation, come to Long Island's North Fork. All the best that Cape Cod and the Napa Valley has to offer is right here waiting for you!
Enjoy our beautiful, uncrowded beaches. Dine at great restaurants (leave the jacket and tie at home), and enjoy seafood just plucked from the ocean. Shop for antiques and artifacts, or view them in museums and historical sites. Fish, kayak, ski, sail...if it can be done on water, it's available here!
Bicycle over miles of country roads. Golf, hike, jog, roller blade, and play tennis. Take the ferry for a day trip to the Hamptons, or Foxwoods Casino.
Visit the tasting rooms of local vineyards that now attract international recognition, many less than a mile from Home Port. Sample the delights at local farmstands and bakeries.
If you like, add a day trip (or longer) to New York City.
All these attractions are within easy reach of our Victorian country home, centrally located in the heart of the North Fork since 1876.
Don't forget to take it easy! Just hang out on our front porch. Relax in the hammock and enjoy the shade from trees that grew up before Teddy Roosevelt did.
The trip here is surprisingly easy! You can drive from Manhattan in 2 1/2 hours (or take the Sunrise Express). If you're coming from New England, bypass New York City and take the ferry from Connecticut.
Southwest Airlines offers service from many cities into MacArthur Airport in Islip, with low fares available at www.southwest.com. MacArthur is a small, efficient airport, and your bags are usually waiting for you as soon as you walk into the lobby. Within minutes of your arrival, you can be in your rental car and on your way to Home Port, just an hour away (unless you stop for lunch at one of the charming restaurants along the way. But we'll tell you about that later).
We offer SPECIAL RATES for summer vacations in 2003....
7 nights for the price of 5!
The Rose and Gold rooms, with a king size bed, at $225/night double occupancy, would normally cost $1575 for a full week. From June 1 until August 31, you can enjoy a full week's vacation for $1125!
The Peach and Blue rooms, with a queen size bed, would normally cost $1400 for a full week. The special summer vacation rate for these rooms is $1000 a week!
These all come with a private bath, and Ellen's lovingly crafted breakfasts for two.
For reservations, or more information, call us at 631.765.1435, or email to homeport1@hotmail.com.
For photos and more information about Home Port, click here.
Summer Vacation Policies

Advance reservation of 50% to reserve rooms.

MasterCard and Visa accepted.

Refund policy: full refund, less $100, with 14 days notice of cancellation.

Check in 3pm, Check out 11am.

Smoke-free home.

Boarding for pets is available nearby.

Children over 14 only, please.